Gregg 9th at Fall Nationals After Ugly Wreck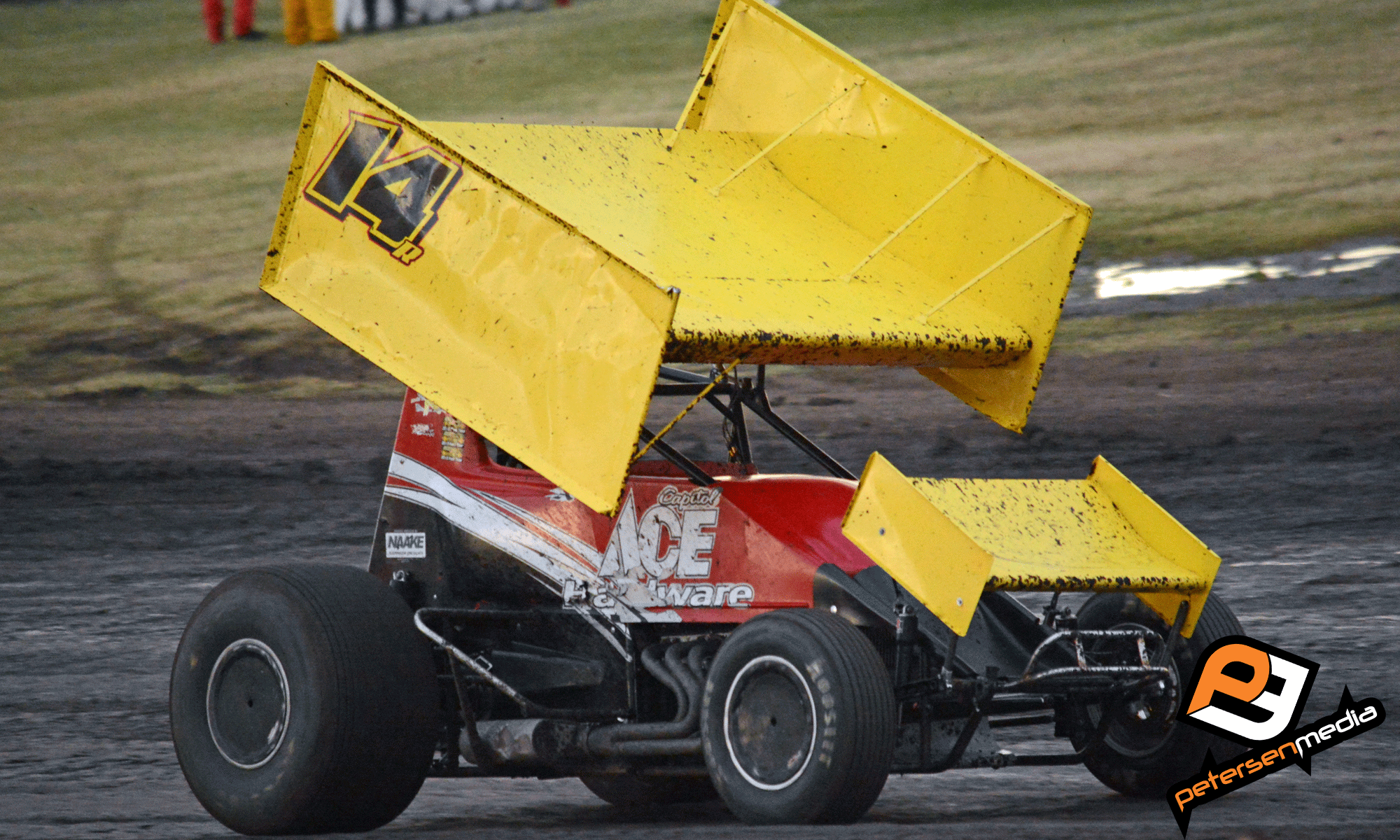 PETERSEN MEDIA: Andy Gregg and his Russell Motorsports team turned a weekend that started out very rough on Friday night into a Top-10 run a the Fall Nationals in Chico, CA over the weekend.
"I cannot thank this entire team for the effort they put forth over the weekend," Andy Gregg said. "We had some horrible luck in the Dash on Friday night and destroyed a car, and everyone pitched in and salvaged what we could to get the back up car ready, and ended up having a nice night on Saturday."
After timing his Mike's Hard Lemonade/Capitol Ace Hardware/Thompson's Auto Care No. 14r machine in third fastest on Friday night, Andy Gregg went on to finish second in his heat race, and move into the night's dash.
On a very sticky and fast surface, Gregg lined up sixth in the dash, and getting into turn one, Gregg's machine bicycled, and the car took of and flipped violently off of turn one landing very hard, and ultimately destroying the car. With the car in bad shape, Gregg escaped unharmed, and his team began deliberating on a game plan for Saturday night.
"It was a tough situation for us, as we ran two cars over the weekend, and the second car was also in a wreck earlier in the night," Gregg explained. "Like I said, the guys did awesome on thrashing to get us race ready for Saturday night, and we had a really good car."
With body panels and wings being a variety of the Russell Motorsports former and current paint scheme, Gregg didn't let it slow him down, as he timed in 13th fastest, before finishing second in his heat race.
Lining up 16th in the 40-lap feature event, Gregg slowly worked his way forward on the slicked off track, as he worked his way into the Top-10 by the 12th lap.
As he battled inside the Top-10, Gregg found himself racing alongside Colby Copeland, Rico Abreu, and Jonathan Allard as they continually jockeyed for position, as the race was plagued with various caution flags.
As the laps clicked down after a late race open-red flag, Gregg salvaged what looked to be a disastrous weekend with a ninth place finish.
"To be honest I was fine with the team calling it a weekend after our wreck on Friday night," Gregg said. "I was bummed how it worked out, because we had been struggling coming into this weekend, and we had some great speed, and then we wrecked. I really have to thank all of the safety companies that help me out, because it was a pretty hard hit we took, and again, cannot thank this entire team enough for all of their hard work."
Gregg and the Russell Motorsports team would like to thank Mike's Hard Lemonade, Capitol Ace Hardware, Thompson's Auto, Carroll Russell Bookkeeping, Arnold's For Awards, Goodwin Trucking, Farrell Design-Build Inc., K&N, FK Rod Ends, King Racing Products, A.R.T. Speed Equipment, GUTS, Amsoil, Wilwood, Amerikote, 101.9 The Wolf, Brown and Miller Racing Solutions, and HJS Consulting for their support this season.
Andy would like to thank Miller Fortune, Poor's Equipment Repair, K&N, FK Rod Ends, King Racing Products, BR Motorsports, FK Shocks, Wilwood, Capitol Ace Hardware, 95.7 The Wolf, CTL Forrest Management, Nail Roofing, Meyers and Sons Drywall, Ervin Sales Group, Hansen Machine, K&T Fab, Brown and Miller Racing Solutions, Amerikote, and Hinchman for their support in 2014.
ON TAP: As Gregg awaits the birth of his first child, his schedule as of now is tentative. Please follow along on Twitter and Facebook to see where exactly he will be at next."
2014 BY THE NUMBERS: Races-42, Wins-2, Top 5's-18, Top 10's-22
STAY CONNECTED: Stay up to speed with Andy by following him on twitter @andygregg53.
PETERSEN MEDIA: Petersen Media specializes in motorsports media constructing news releases, both pre and post race, as well as constructing email lists to keep sponsors, and fans up to date. Petersen Media also utilizes today's Social Media networks to provide trackside updates to fans and sponsors, and can customize packages to fit your team's needs.
For more information contact sales@Petersenmediainc.com, by phone at 916-342-3424,  visit www.petersenmediainc.com,  www.facebook.com/PetersenMedia or follow www.twitter.com/Petersen_Media.
#Motorsports #PR #SilverDollarSpeedway #petersenmedia #FallNationals #Info #Media #AndyGregg #Racing #SprintCar #News